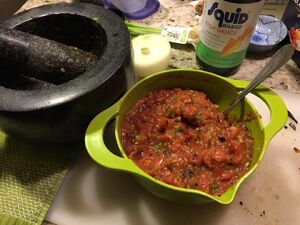 'Jell' or 'Jaio' just means sauce and 'Mac-Lain' is tomoato. This tangy & spicy tomato dipping sauce is excellent with sticky rice or with jasmine rice as well. The below is an e-mail from Pearl T and the recipe is from Grandma Nhi.Flycogen

Hi! Here's the recipe for grandma's tomato sauce jiao. I haven't tried it myself from scratch yet, but I was the one that did the mixing at the end. I then reconfirmed the ingredients with my dad. So you might want to try it before giving it to anyone else. I have no idea what the peppers are called...but i'm sure there's adequate substitution in Oklahoma. Jiao Tomato
Ingredients:
[
]
3 lbs Ripened tomatoes
1 bowl Peppers sliced (the ones from grandma's backyard)
2 Shallots sliced thin
1/2 onion minced
2 garlic heads minced
Fish sauce
Thin soy sauce
Sugar
1 bowl cilantro
Directions:
[
]
1. Prepare tomatoes: Option A: Slice tomatoes into wedges and boil in a little bit of water until reduced and pulpy Option B: Place tomato wedges on a baking sheet and place in oven until soft, not dehydrated. 2. Bake/toast the peppers until brown/crisp 3. Combine the shallots, onion, and garlic in a skillet and sautee until aromatic and soft. Add toasted peppers and sautee until flavors are combined. 4. Place the pepper mix in a mortar and smush until soft. 5. Add the smushed pepper mix to the tomatoes in a large mixing bowl and combine thoroughly. 6. Season as desired with fish sauce, soy sauce, and sugar (2-3 tsps). From my observation, there was a lot more fish sauce than soy sauce. I'd say a few dashes of soy sauce and 4-6 dashes of fish sauce... Depends on personal taste 7. Once sauces are satisfactory, mix in cilantro. 8. Store in airtight containers. May be frozen as well. Note 1: if both tomatoes and peppers will be toasted, they can be toasted at the same time (just in different pans!) Note 2: Instead of tomatoes, this can be made with button mushrooms! Slice up the mushrooms and sautee until excess water is gone and mushrooms are soft. All other steps are the same.