It has been some time since I wrote on here. It has been some time since I cried for you, but today I did. We lost baby Annabelle Rose almost this time last year. It has been a rough. -- Vince 3/7/18
Happy Birthday mom! We are going to sesame place today! Wish you could lend a hand! --Vince 6/2/16
It has been a crazy 4 months. Your third grandbaby Alexa was born on Oct 25, 2014. She is lovely. Not a great sleeper though. We could have used you to hold her in the dead of night. Quentin had the happiest laughter today riding in the back of our Civic with the windows open. It made me smile all the way to my heart. It is these times that I miss you most. --Vince
---
Vivi is officially married now both by the state and in front of her family. It was the BEST WEDDING EVER!!! You would have loved it. She has really inherited your ability to gather people together. We still miss you very much.--Flycogen (talk) 12:55, September 23, 2014 (UTC)
---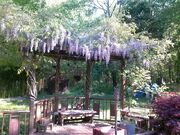 It has been three years since you've been gone. I can still feel your warmth around us. Flycogen (talk) 01:34, October 12, 2013 (UTC)
---
I am writing on your birthday, but I miss you every day! Your grandchildren Quentin and Cassandra are missing you too though they have never met you. I love you very much.Flycogen (talk) 12:22, June 2, 2013 (UTC)
---
It's been over 360 days since I spoke to you, but your laughters are still loud in my memories and your lovely face does still show up in my dream as if only could I rushed home any moment from my business trip, I would be able to see you again. It's sad that travelling alone seems to be a way to believe that you are still home. I will always miss you knowing that you also gave me a wonderful future with our children. We all love you very much.
---

You always treated me as a daughter from the very beginning. Your grace, generosity and beauty are inspirational. Now, as I become a mother myself, I will try to follow in your footsteps, and be the kind of mother to my baby that you have always been to your family, and to me. Kristensavath 02:21, February 3, 2011 (UTC)
---
I have been very blessed to have you as my loving wife and as the best mother of our children and as a grandma of our first grandchild that I will hold, hug, and tell memorable moments about you, your friends, and most of all our family. You made us very proud to talk about you and about what you had done.(moved from the comments section, written by user:akongvee)
Community content is available under
CC-BY-SA
unless otherwise noted.