Obituary for Khamchanh Savath
[
edit
|
edit source
]
Khamchanh "Chu" Savath passed away on October 11, 2010 at Vassar Brothers Hospital from a sudden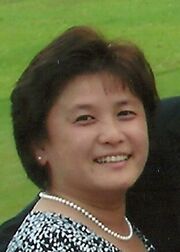 ruptured brain aneurysm. She was 51 years old. The eldest child of Somchai and Nhi Khowong, Chu was born in Vientiane, Laos and led a group of her siblings to America as refugees from a communist regime in 1976. She worked tirelessly to ensure her siblings could attend public high school, herself earning a GED and Associates Degree from Dutchess Community College later in life. She went on to a ten year career as the Senior Accounts Clerk at the Town of Hyde Park Supervisor's Office. Chu married the love of her life, husband Virasay Savath in 1979. Ever generous, the young couple worked to bring other refugees and family members safely to their new home. Together they raised three young children to adulthood in Poughkeepsie. Though petite in stature, Chu exuded warmth and energy far beyond her physical size. She was an avid hiker and badminton player. At home, she enjoyed making meals, gardening, watching birds with her husband, and doing crafts. As a community mother, Chu contributed time and energy to the PTA and Boy Scouts. This summer, Chu completed a journey back to Laos for the first time since she left 34 years ago. Selfless in death as she was in life, Chu successfully donated organs to several families in need as her last act. She is survived by her parents, Somchai and Nhi Khowong of Queens, New York; her husband Virasay Savath in Poughkeepsie; siblings George Khowong in New Jersey, Kathy Teeratananon in Queens, Sandy Chan in New York, Jeff Khowong in Oklahoma City, Kevin Khowong in Queens, and Khamla Erskine in Croton-on-Hudson. Her surviving children Vincent Savath, Vivien Savath, and Victor Savath reside in Altus, Oklahoma, Seattle, Washington, and Montclair, New Jersey respectively. In lieu of flowers, the family asks that remembrance donations are made to Room to Read – Laos (www.roomtoread.org), an organization dedicated to improving basic education, especially for young girls. Chu's family will be receiving friends and family at McHoul Funeral Home, Inc., 895 Route 82, Hopewell Junction from 6 to 9 pm Friday evening with eulogies starting at 8 pm, open to all. On Saturday morning from 9-11AM the same venue will host a traditional Buddhist service, again open to all.
Community content is available under
CC-BY-SA
unless otherwise noted.