I never had Pho before I met mom but now it is one of my favorite foods. - Kristen Savath
Pho is a great dish for company. It is savory and delicious and comforting. There are a number of variants to this soup; this version is mom's original recipe conveyed to me over the phone. Flycogen 17:35, August 10, 2012 (UTC)
2 lbs beef bones (neck preferred, ox tail also is good)
1 lbs tender beef sirloin, thinly sliced
Chinese Beef Meatballs
1 lb flat rice noodles, medium
2 celery sticks, cleaned and chopped
2 carrots peeled and coarsely chopped
1 big sweet onion, quartered and roasted
salt, pepper
sugar
3 tsp fish sauce
1 tablespoon peppercorns
3-5 star anise, roasted over a flame if time permits
1 whole stalk of lemon grass, cut into 4 inch lengths
1 small Cinnamon stick
2 bay leaves
1 tablespoon coriander seeds
Cheese Cloth
3-4 Limes, cut into 1/6 wedges
1 bunch cilantro, rinsed and chopped
1-2 bunches Saw Leaves (aka cilantro or Mexican coriander)
1 bunch basil (thai preferred), rinsed
1 bunch mint, rinsed
1 bunch scallions/green onions chopped
3 cups mung bean sprouts, rinsed
garlic oil (1 clove minced garlic browned over med heat in 3 tbs vegetable oil)
1 jar of spicy chili sauce in garlic oil
Shrimp Paste
Siracha for dipping meat
Marinate beef in fish sauce (3 tsp), ground pepper (1 tsp) , sugar (1 tsp) or to taste
Soak rice noodle in luke warm water for at least 30 minutes
Make the stock:

In a large pot, combine bones, onion, carrots, celery, plus dry spices in the cheese cloth (peppercorns, star anise, bay, cinnamon, corriander, lemon grass)
Bring to a rolling boil
Reduce to simmer/low boil
Be sure to intermittently skim off fat and any accumulating foam
cook for at least 3 hours... but preferably all day long

Place noodles in serving bowls
Place garnishes on a communal serving plate
Remove large floating veggies from the pot
Add meatballs to stock
Add fish sauce to taste (leaving a little saltiness to be added by each person to THEIR taste!!!)
Return stock to a rolling boil
Using a wire mesh strainer, place individual servings of marinated beef into the boiling stock, dipping in and out until desired "doneness" is achieved for each portion
Ladle hot stock into noodle filled bowls and enjoy with your favorite garnishes!
(Victor likes his RED HOT with lots of lime)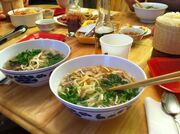 ~Kristen 04:07, February 4, 2011 (UTC)
Community content is available under
CC-BY-SA
unless otherwise noted.