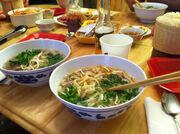 This is just a variation of pho stock ingredients. See
mom's recipe for
the rest.
This is my own variation of Pho stock that is mostly based on mom's recipe and a recipe passed on to me by one of my Vietnamese patients, Mrs. Bullington, when she found out I like Pho. There are a few spices that mom did not use and also notably, the addition of short ribs which help the flavor and are very delicious to serve if your guests do not mind an unsightly chunk of bone/fat/gristle/meat floating in their pho. My patient's recipe called for oxtails instead of pork neck bones; I am still undecided which is better. I am currently plus/minus on the veggies in the stock from mom's recipe with the exception of onion. I have found that the spices and meaty taste way overpowers any celery or carrot flavor. Flycogen 17:51, August 10, 2012 (UTC)
Ingredients
For stock (I usually put all the small spices in a mesh basket, but a cheesecloth will work)
1 Large Stockpot 3/4 full of water (probably about 12 quarts)
1 tablespoon salt
1 tsp whole cloves
1 tsp coriander
3 stalks lemongrass (stems only) cut into 1-2 inch pieces
3-4 pieces star anise, roasted briefly over flame
1 head garlic cut in half through the cloves
1/4 lb Ginger
2 tsp peppercorns
1 tsp red pepper flakes
1 stick of cinamon broken in pieces
1 med-large onion cut in half
1 -2 lbs pork neck bones (oxtails will also do... I have not decided which is better)
1 - 2 lbs of Beef Shortribs, browned in your stockpot before adding water

(English Cut if you want to eat it at the end)

2 Carrots and 2 Ribs of Celery (optional) cut into 4 inch lengths
Directions
see mom's recipe
Community content is available under
CC-BY-SA
unless otherwise noted.