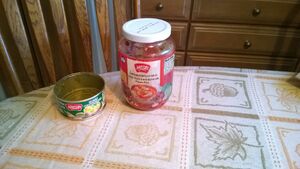 Translated literally : fried fat... but tastes more like the best meatballs ever. This is uncle George's variation which I had found more tender than moms/grandmas which is made from beef. Mom's version is here: spicy meatballs . This is very good with sticky rice !!!
Ingredients
Edit
1/2 can red Thai chili curry mix. Maesri is a common brand 
2 leaves kaffir lime finely shredded with vein removed 
1 med sized head garlic minced 
2 whole scallions finely chopped 
2 tablespoons dried shredded coconut 
1 can coconut milk 
4 tablespoons chili paste in soybean oil (jao bong) 
Fish sauce to taste (2 tablespoons) 
Sugar to taste (Omit if the chili paste is sweet) 
6 lbs Lean ground pork 

2 lbs high fat ground pork

Vegetable Oil for Frying 
Directions
Edit
Mix all the ingredients except the pork and oil in a large bowl
Additionally Season with fish sauce, sugar, and more chili paste to taste.
Mix/knead thoroughly into the pork

Form 2 inch round patties
Pan fry each side in about 1/8 in oil until lightly brown